Our certified technicians have the experience you need to get things back up fast when disaster strikes! We're fully equipped for all of your fiber splicing and testing needs. Whether you need to map your entire network or splice a complete FTTH/FTTP project, we've got you covered. Design, as-built mapping, spectrum testing, splicing and activation...we've got you covered!
Key Splicing Points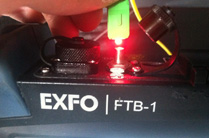 V-groove, Core Alignment & Ribbon splicing
Multi-wavelength testing
Certified designers and installers
Our technicians exude professionalism and deliver a superior product that you can depend on - don't settle for less!